Sellers - Home Energy Score

Portland Home Energy Score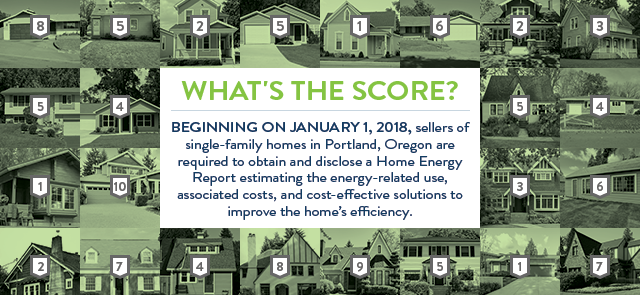 The City of Portland Home Energy Score ordinance will take effect on January 1, 2018, requiring sellers of single-family homes to disclose a Home Energy Report and Score at time of listing. Portland City Council unanimously adopted the policy (Portland City Code Chapter 17.108) in December 2016. In advance of the policy taking effect, the City of Portland Home Energy Score website is now live at www.pdxhes.com.


For sellers, the website explains the necessary actions for completing the requirement and answers questions about logistics, how to get a home assessed and how to improve scores. Buyers are guided through the Home Energy Report and are prompted to wrap energy improvement projects into financing. Real-estate professionals can learn how to make the new policy work effortlessly for their clients and how to post scores online. Builders can find information about how to obtain a score based on construction plans and possible exemptions and waivers.The website is also a place to find out how to become a Home Energy Assessor.


City of Portland, Home Energy Program

Testimonials
" Molly was the best real estate agent ever! She made our first time home buying experience amazing. She is quick, knowledgeable, and very patient. She was always just a call or text away. Thank you so much Molly! "
- Stacey H.
" My husband Charlie and I just bought our first home in April. We had a fabulous realtor. Molly LeBlanc was fantastic. She was always available to take us out to look at houses, she was very patient and every morning when I woke up she had sent me more houses to look at. Even when I was so overwhelmed and did not now what house was what she always knew what I was talking about. She was wonderful and very knowledgeable. She found us our perfect home and we love it. She made buying a house a wonderful and memorable experience, one we will never forget. "
- Tara and Charlie Ellis
Previous
Next